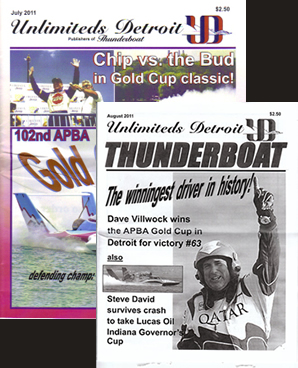 Don't miss another issue! Subscribe to THUNDERBOAT AND JOIN THE CLUB!
Thunderboat Magazine

Here's what you'll find inside THUNDERBOAT MAGAZINE...
With your membership, you receive 10 issues packed with the latest news and information from the world of Unlimited Hydroplanes.

You'll also find...

- A look back through Unlimited Hydroplane history with interesting stories from those who know!

- Commentary, opinions about where the sport has gone and where it's going.

- Great photos from our amature and professional contributors.

- "Scuttle Butt" - The Source for Unlimited News and Rumors!

...and thespecial FULL COLOR GOLD CUP ISSUE that is published during Gold Cup week!
Thunderboat contributors

Just SOME of the people who contribute to THUNDERBOAT MAGAZINE...



Editor: Steve Garey


more about Steve Garey


Contributors
Garl Clement
Ray Dong
Tom Netschke
Randy Roe
Sandy Ross
Bob Senior
Writers/Reporters
Fred Farley
Craig Fjarlie
David Greene
George Schulz
Photographers
Jeff Dunn
Kristyl S. Girschner
Hank Kosciuszko
Mike Millenbach
Karl Pearson
Robert F. Peters
Judy Roberts